Rúnagaderung - The Runic Gathering 2019 (Early Bird)
£

20.00
Sold out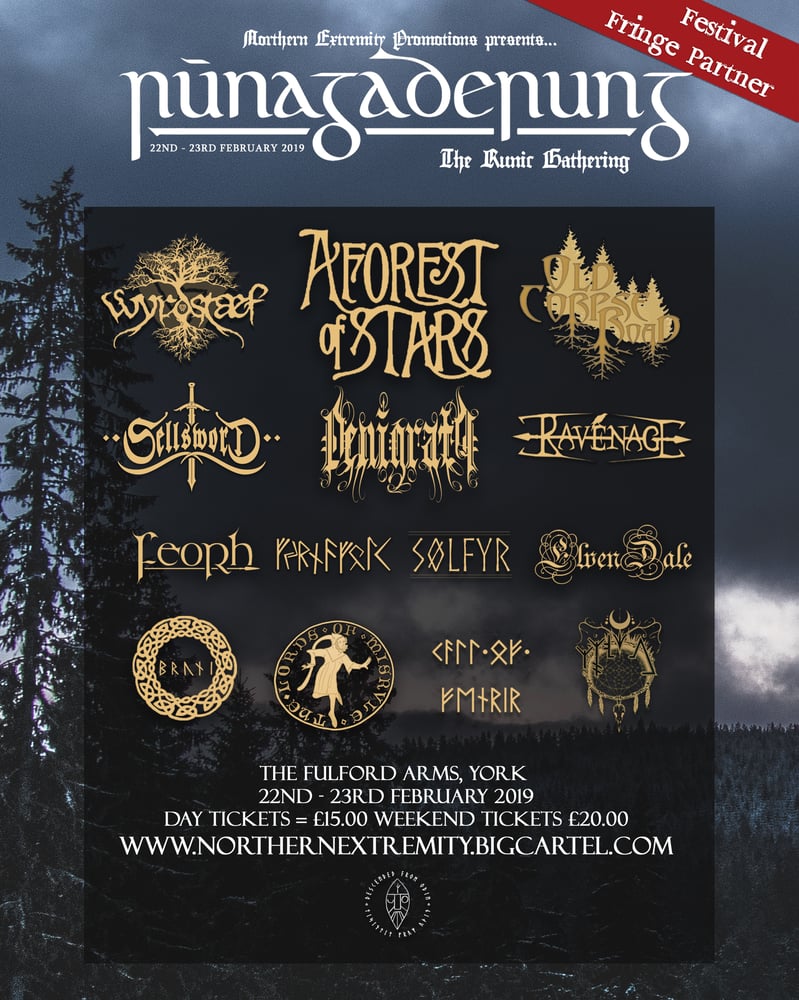 Northern Extremity Promotions presents...
Rúnagaderung, the Old English word for 'The Runic Gathering' is a weekend long musical event which celebrates the rich history and mythology of early northern Europe, from the mysterious petroglyphs and hidden secrets of the Nordic Bronze Age to the grim poetry of the Anglo-Saxons and the epic sagas of the Vikings.
The gathering takes place over two days, with the Friday being dedicated to a selection of some of the best historically inspired folk, neo-folk and dark ambient bands that the United Kingdom and Scandinavia have to offer. Often played on traditional Viking Age and medieval instruments, songs both ancient and new will be sung, stories will be shared and the past will be brought to life.
The Saturday brings an onslaught of metal to the city of Jorvik. Covering a broad range of the metal spectrum, we bring historically influenced black, extreme, death and power metal bands from across the country to take part in our closing blót.
TICKETS
Weekend Pass - £20.00
Day Pass - £15.00
Full lineup still to be announced.
LINEUP
Friday 22nd
- TBA -
- The Lords of Misrule -
The Lords of Misrule came into existence almost forty years ago, when a group of like-minded students at the Centre for Medieval Studies decided that there was a gap in the city's amateur dramatics market that could be filled by their particular expertise.
Since then, the Lords have established a reputation in York and beyond for putting on productions of both medieval and other early dramas and their own adaptations of other medieval texts. Their aim has always been to make medieval literature both accessible and fun for modern audiences, not by 'dumbing down' the texts but by bringing out their true spirit.
- Bruni -
A group local to Jorvik, performing their own interpretations of Norse folk and traditional songs on ancient instruments.
- YYLVA -
YYLVA, meaning 'she-wolf', in an Atmospheric Black Metal venture created by British artist and songwriter, Clare Webster. In a world where traditional heathen and ancestral values are rapidly being lost to the aether, YYLVA's etheric, harp-laden lullabies serve to connect us with our fading heritage.
- Fyrnafolc -
Using a variety of ancient European instruments, Fyrnafolc capture the very essence of the 'dark' ages with melancholy drones and solemn vocals.
- ElvenDale -
Hailing from the heart of Mercia, ElvenDale's purpose is to commit the epic stories from the Germanic Sagas to music, using the wonderful instruments of their time, to bring you music from the mead hall!
- TBA -
Saturday 23rd
- A Forest of Stars -
120 years before our age, there is a Gentlemen's Club of A Forest Of Stars, an exclusive brotherhood of Victorian Englishmen who consider themselves representatives of their era, an era as glorious and splendid as it is decadent. This collective finds its musical expression in hypnotic and ghostly Black Metal, expertly streaked with elements of Ambient and Psychedelic.
- Old Corpse Road -
Old Corpse Road have carved a name into the UK black metal scene producing classic, yet unique British black metal based on the dark folklore of Britain.
- Sellsword -
The mercenaries of metal return to Jorvik, bringing their own brand of seriously un-serious Power/Heavy Metal from the barren plains of Yorkshire.
- Ravenage -
Hailing from Hull, England, Ravenage are a six-piece epic viking metal band famous for their bombastic live show and catchy folk anthems.
- Wyrdstæf -
Combining an array of dark soundscapes and ominous atmospheres, Wyrdstæf fuse the ambience and simplicity of traditional historical instruments with the aggression and technicality of extreme metal - lyrically focusing on the Palaeolithic period of human pre-history, Wyrdstæf bring the fury and mysticism of the stone age to a modern audience.
- Denigrata -
Denigrata are an ambient, tech-fuelled black metal collective from the United Kingdom. Putting their own twist onto the genre, an apocalyptic assault on the senses incorporates bewitching operatic vocals into a cold and charred landscape.
Proudly sponsored by Descended from Odin.